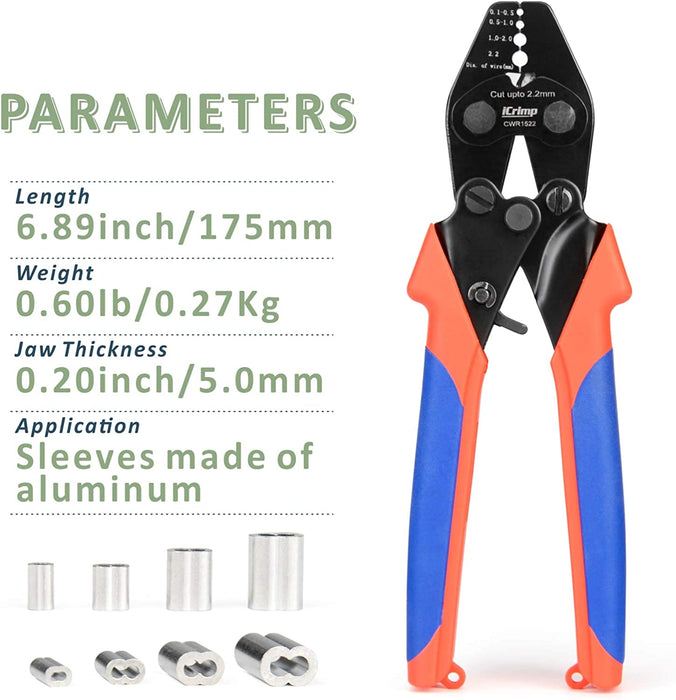 iCrimp Wire Rope Crimping Tool with Cutting Function for Cable Railing, Hand Swaging 0.1~2.2mm Aluminum Oval Sleeves, Alloy Double Sleeves
Original price
$21.99
-
Original price
$21.99
About this item
6.8 INCH TOOL with 4 cavities for diameter 0.1-0.5 /0.5-1.0 /1.0-2.0 /2.2mm wire rope and applicable to aluminum oval sleeves,double barrel ferrules for railing,decking, picture hanging

◆SOLID◆ Constructed of high quality Cr-MO steel with superior rust resistance and the connection joints are processed with Metal Sheet Processing to improve tool's ruggedness and force transmission.The cutting blade with high hardness and good abrasion resistance can bring excellent experience.

◆PRECISE◆ Two pieces jaw is processed with WIRE EDM CUTTING to ensure the jaw's accuracy and bring phenomenonal tolerance when two pieces jaws be together.

◆MULTIFUNCTIONAL◆ With built-in cutting blade, this tool can also cut the wire rope up to 2.2mm in seconds effortlessly, saves money from buying a single cutter.

◆HUMANIZED◆ With ratcheting mechanism,it's more efficient to crimp the sleeves and convenient to hold the sleeves.Ergonomic sure-grip handles bring comfortable experience during operation.