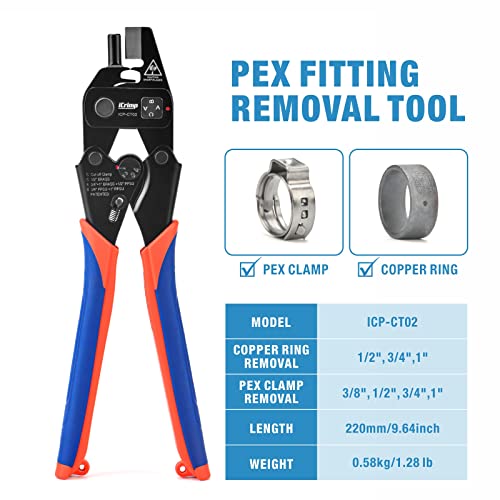 iCrimp ICP-CT02 PEX Crimp Fitting Removal Tool for Removing 1/2-in, 3/4-in, 1-in PEX Copper Crimp Rings & Stainless Steel Cinch Clamps
Original price
$23.99
-
Original price
$23.99
Features:
ICP-CT02 PEX removal tool is specifically designed to remove stainless steel pinch clamps and copper crimp rings in the event of a mistake or need for modification. Ideal tool for PEX plumbing projects.
For use with 3/8'' to 1'' PEX clamps and 1/2'' to 1'' copper crimp rings. Ideal for ASTM F1807 brass fittings and poly/PPSU fittings.
Allows PEX crimp fittings to be used more than once. Removes copper crimp rings and PEX clamps with gentle action that will not damage fittings. The easy dial setting adjusts for fitting sizes and types.
Easily removes copper crimp rings and PEX cinch clamps from Sioux Chief, Apollo, Oetiker, Murray, etc.
Must-have tool for making PEX crimping connections in rough plumbing. Perfect for the DIY homeowner or the professional looking for perfect way to get started with PEX plumbing.