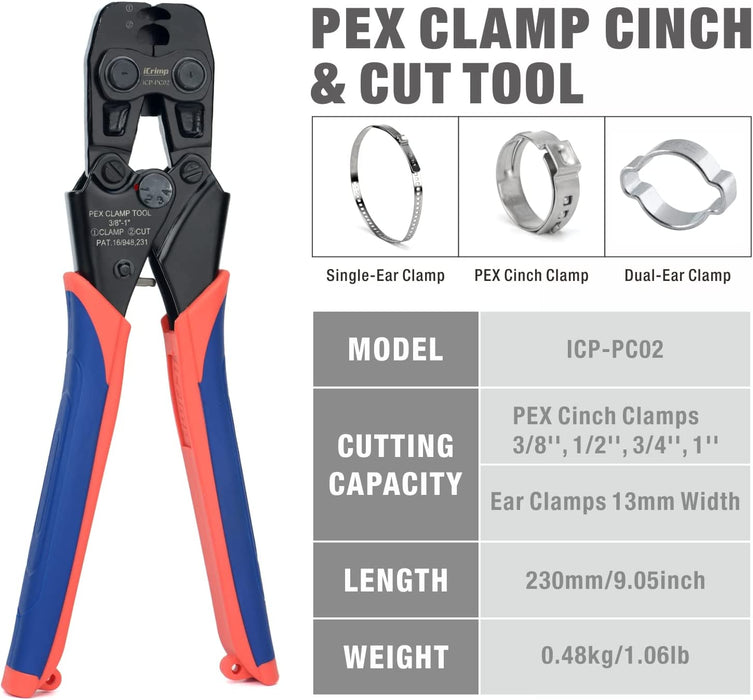 iCrimp ICP-PC02 PEX Clamp Tool for Pinching and Cutting Stainless Steel PEX Clamp Rings,3/8,1/2,3/4,5/8 and 1-inch, PEX Clamp Removal Tool
Original price
$25.90
-
Original price
$25.90
About this item
Multifunctional PEX Crimping Tool: ICP-PC02 PEX clamp tool is designed to cinch and remove stainless steel PEX clamp rings to make fast PEX connections or reuse PEX barbed fittings.

Full-size Clamp Tool: Clamps 3/8-in, 1/2-in, 5/8-in, 3/4-in and 1-in stainless-steel PEX clamp rings onto PEX tubing. Cuts 3/8'' to 1'' clamps from brass or poly crimp barbed fittings to reuse or replace PEX fittings

Cinch & Remove: ICP-PC02 is a combination of traditional PEX clamp cinch tool and clamp removal tool. It has two fixed jaws and does not need to change between modes. The rugged PEX clamp ring pinch tool provides everything needed to ensure a dependable trouble-free installation or repairs of PEX/Barb Connection Systems.

Watertight Seal Connection: The clamp tool will not release from the clamp ring unless you make a properly secure connection. The tool is factory calibrated and all clamp connections conform to the ASTM F-2098 standard.

Applications: Perfect for the DIY homeowner or the professional looking for the perfect way to get started with PEX plumbing. Suitable for making stainless steel clamp ring connections in potable water lines, radiant heat, snow melt, ice rink systems and among other applications. Works for CV boot hose clamps.
ICP-PC02 PEX Cinch Clamp Tool -- Pinch & Cut
ICP-PC02 PEX clamp tool is universal and will work with any brand tubing, clamps or crimp(brass or poly) barb fittings which meet ASTM F2098 standard. PEX clamp pincer tool refers to clamp connection method which utilized stainless steel cinch clamps. ICP-PC02 PEX clamp pincer comes factory pre-calibrated and does not need any adjustment. It features a ratcheting, mistake-proof mechanism that makes complete cinch and gauge free clamping, will not disengage until a uniform crimp is completed or the quick release lever is triggered.
What highlights ICP-PC02 PEX tool functionally?
ICP-PC02 single PEX clamp tool is compatible with PEX clamps of all sizes from 3/8" to 1" and does not require additional tools or tool jaw changes.

This PEX clamp cinch tool also works as a PEX clamp removal tool. It features a value added cutting function. It cuts through up to 1 inch stainless steel clamps with ease even at tiny corner. No need to change between jaw modes.
Key Features
Pinch & cut stainless steel PEX clamps in one tool.

Hardened steel construction ensures reliability and durability.

Factory calibrated to ensure proper connections right out of the box.

Tool disengages from pinch clamps only when a complete and secure connection has been completed.

Designed for use with 3/8 in., 1/2 in., 3/4 in. and 1 in. stainless steel pinch clamps.

Ideal for use in tight spaces such as manifold installations.