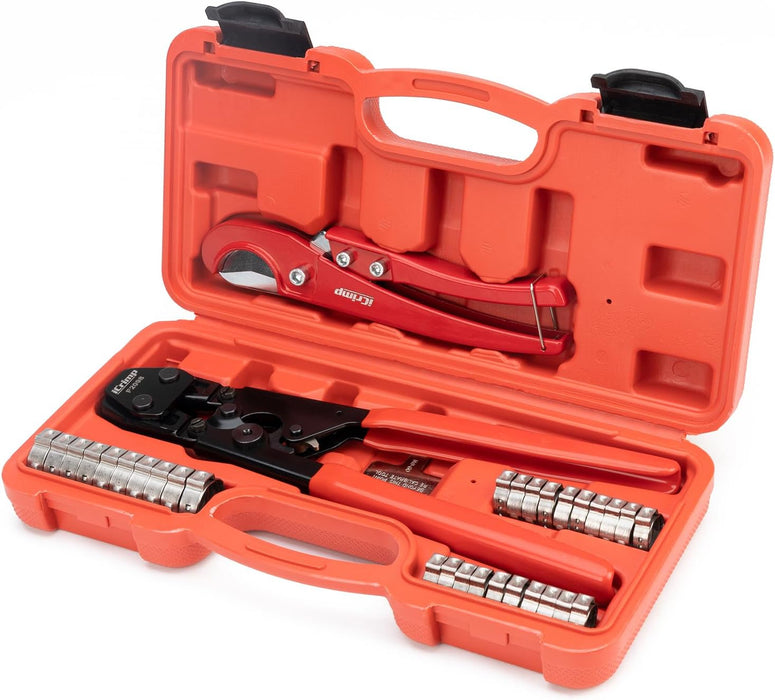 iCrimp KIT-1096D PEX Clamp Tool Kit for 3/8 to 1 inch PEX Cinch Clamps Meets ASTM 2098 with 20pcs 1/2", 10 Pcs 3/4" Clamps
Original price
$30.99
-
Original price
$30.99
About this item
KIT-1096D is an all-in-one PEX crimping tool kit in a compact and durable carrying case, with stainless steel clamp rings, PEX clamp tool, PEX pipe cutter included, make you ready for any PEX-B plumbing projects.

Ratchet PEX clamp cinch tool works with 3/8-in, 1/2-in, 5/8-in, 3/4-in and 1-in stainless steel PEX clamp rings. Approved to use with PEX clamps by Apollo, Oetiker, Watts, etc. The tools are factory calibrated.

PEX tubing cutter cuts through up to 1 inch PEX tubing like butter.

1/2-in(20-Pack) & 3/4-in(10-Pack) stainless steel PEX clamp rings included are corrosion-resistant and finished to offer long-lasting strength. For use with brass or poly PEX crimp fittings. NSF certified.

Meets ASTM F2098 standard.