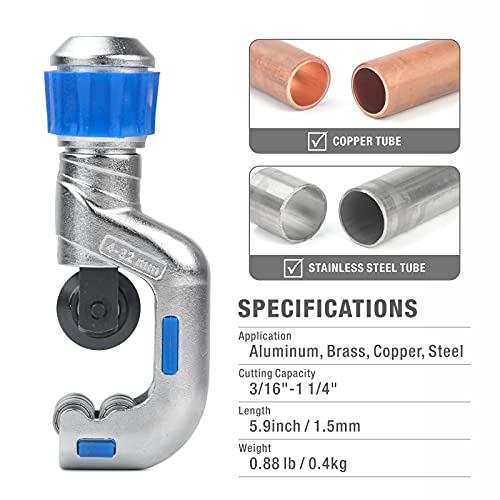 iCrimp Tubing Cutter Tube Deburring Tool Combo, Pipe Cutter for 3/16-in to 1 1/4-in Dia. Aluminum, Copper, PVC, Stainless Steel Tubes
Original price
$12.99
-
Original price
$12.99
About this item
Tube Cutter and Deburring Tool Bundle: Includes essential tools to cut and clean pipes or tubing Cuts copper, brass, and aluminum tubing 3/16 in. to 1-1/4 in. O.D. Removes burrs from metal or plastic pipe edges
CT-532 Pipe Cutter: Features an enclosed feed screw to prevent clogging or jamming, grooved rollers for close-to-flare cuts and a fold-away reamer stored in the frame.
Replacement Blade: Made from abrasion-resistant chromium steel for strength Precision-machined for accurate cutting performance.
CT-207 Deburring Tool: Use to remove burrs from cut metal and plastic pipe or tubing. Boasting a lightweight design, this contoured, hex-handled tool creates smooth surfaces for any project.
This convenient tubing cutter combo is a must-have for any toolbox. Ideal for refrigeration and plumbing programs. The cutter allows you to easily cut metallic tubing with a simple one-handed operation. Just clip the tubing cutter onto the tubing and rotate!