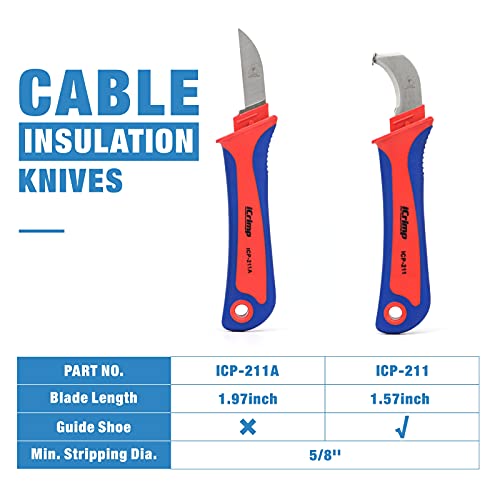 iCrimp Utility Knife for Cable Skinning, Wire Insulation Dismantling Knife, 2-Pack Insulated Electricians Cable Stripping Knives, Fixed Blade
Original price
$9.99
-
Original price
$9.99
About this item
Purpose: Cable stripping knives are used to remove the outer insulation on conductor cables. Ideal for solid and stranded conductors.
Capability: Strips all standard round cables larger than 5/8'' Dia.(15mm).
ICP-211 Cable Dismantling Knife with Shoe Guide: Solid, fixed hook blade, sickle shaped. With guide shoe at the blade point. No damage of the conductor insulation. Blade made of stainless steel, vacuum hardened.
ICP-211A Stripping Knife: Solid, fixed straight blade. Designed for optimal edge retention and durability. The stainless steel blade is engineered to stay sharper longer. A full metal tang provides durability for tough cuts. 
Ergonomic Designs: Thumb recess and "finger hook" at the end of the handle ensure a good transmission of force when the blade is pulled. Includes protective cap to cover blade when not in use.