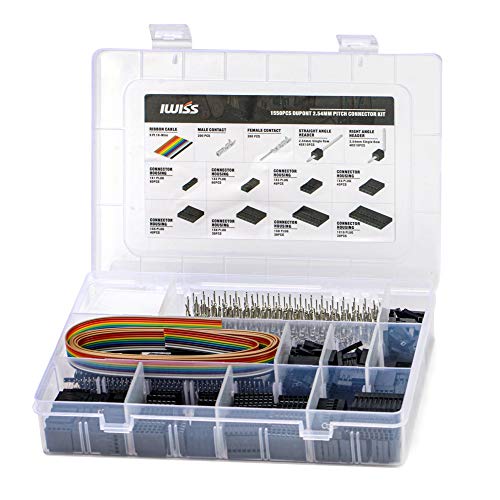 IWISS 1550PCS 2.54mm Pitch Wire-to-Wire Dupont Connector Kit, includes Pin Headers, Jumper Wire, Crimp Pins for RC Servo, Arduino, SMT, SATA, EPS
Original price
$13.99
-
Original price
$13.99
About this item
1550PCS Dupont Connector Kit includes a variety of connectors: single row pin headers, bent pin headers, crimp pin connector housings, male and female crimp pins for wires.
The housing components are injection molded Nylon66,UL 94V-0. These thermoplastics are scientifically proven to resist UV-radiation than the normal plastics, ensuring that the connectors are well-protected, reducing the chances of early degradation and increased cycles/minute of the connector subjected to harsh environments.
Dupont 2.54mm pitch wire-to-wire connector in a complete package including the male housing, female/receptacle housing, female terminal and male terminal, all manufactured with precision-fitting and durability ensuring accurate mating.
The electrical interfaces are fully sealed using a shrouded-header for use applications with high levels of moisture. The shroud helps meet the low smoke, toxicity and flammability requirements of almost all industries.
It offers a crimp style lock and a configuration which prevents users from inverted insertion. It is well-engineered to be air-tight, preventing oxygen and moisture from reaching the metals, causing corrosion.