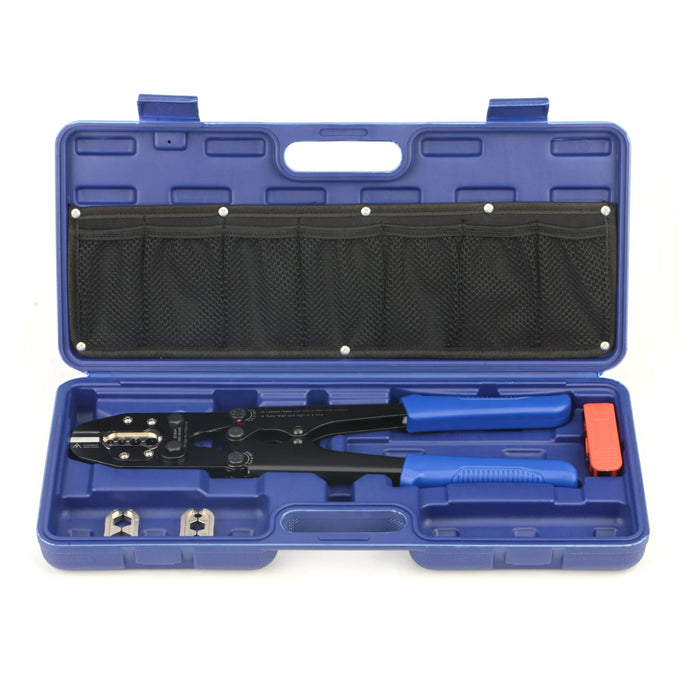 iCrimp Battery Cable Lug Crimping Tool Kit for 8 to 4/0 AWG Copper Ring Terminals, Battery Cable Ends, Copper Splice, c/w Radial Wire Stripper
Original price
$82.69
-
Original price
$82.69
About this item
Lug Crimper Tool Kit: IWS-0840S includes one heavy duty lug crimper, three exchangeable die sets, one radial wire stripping tool as well as a practical carrying case. An all-in-one tool kit for making electrical connections. Please confirm receipt of everything upon delivery.

Full Size Wire Gauge: Crimps 8 gauge to 4/0 gauge battery cable ends, lugs, ring terminals, copper or aluminum connectors onto battery cable or welding cable. 8 AWG, 6 AWG, 4 AWG, 2 AWG, 1 AWG, 1/0 AWG, 2/0 AWG, 3/0 AWG, 4/0 AWG.

All-in-one Electrical Tool Kit: Cut, Strip, Crimp in one tool set. Crimper has a built-in cutter for cutting soft stranded cables. Exchangeable die sets will leave embossed die codes on lugs after crimping. ICP-240 wire stripper is capable of stripping up to 4/0 gauge cables.

Secure Connection: Lugs can be connected to a battery cable or welding cable by simply stripping insulation from the end of your cable, placing the lug over the exposed cable and crimping the barrel tightly and securely to the end of the cable in hexagonal profile. Make sure lugs maintain high temperature durability and enhanced mechanical strength.

Applications: Ideal for battery cable applications, battery bank wiring (wind and solar), RV and car wiring applications, inverter wiring and any other application where a flexible pure copper conductor is required.
Battery Lug Compression Ring Terminal Crimping Tool Kit(Cut, Strip, Crimp)
IWS-0840S lug crimper kit is designed to crimp heavy duty electrical lugs on 8 to 4/0AWG battery cables or welding cables.
A loose battery cable connection can be dangerous--you never know when or where you'll suddenly lose power and stall out. IWS-0840S crimping tools alleviate that problem at the source. This crimper is perfect for crimping standard power rings onto your battery cables, as well as other wire-crimping work. Be confident of a permanent cable end connection, choosing correct tools from IWISS.
As a full function crimping tool kit, IWS-0840S is highlighted by a heavy duty crimping tool which has three exchangeable die sets and built-in shear cutter, as well as a radial wire stripper. It is a must have tool kit that settles basic steps of cutting, stripping and crimping in one tool combo.
Crimp Range: 8, 6, 4, 2, 1,1/0, 2/0, 3/0, 4/0 AWG
Crimp Profile: Hexagonal
Applicable Lugs: Aluminum & Copper
Applications: Inverters, Battery, RV
Components: 1* IWS-0840S Crimper
3* Die Sets
1* Radial Wire Stripper
1* Carrying Case