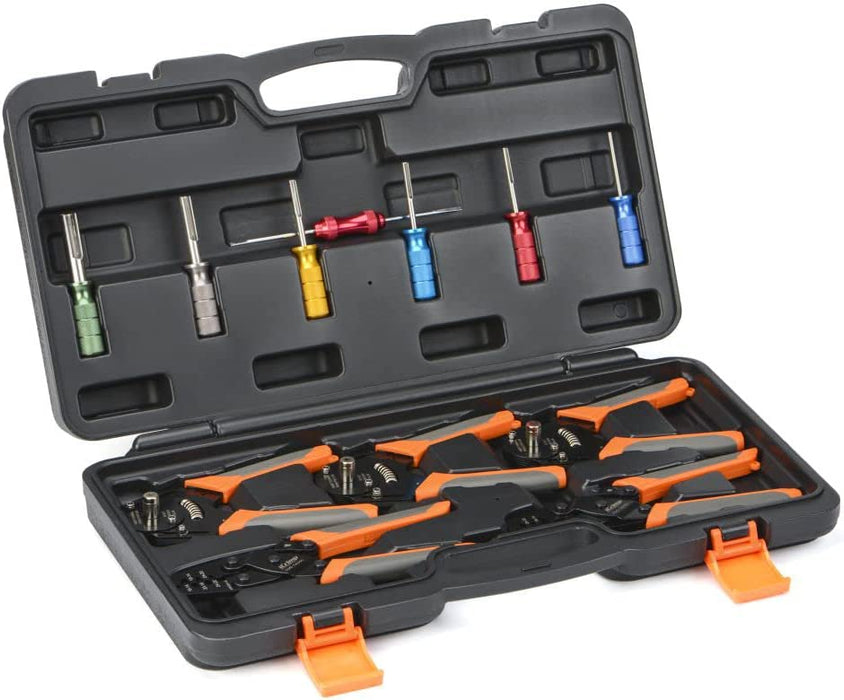 iCrimp Closed Barrel Crimper, Deutsch Connector Crimping Tool Kit for Deutsch DT Connectors, Solid & Stamped Contacts, Delphi Weather Pack Crimper, Removal Tool
Original price
$89.99
-
Original price
$142.99
About this item
Automotive Harness Wiring Tool Kit: Ideal for pin & depin automotive electrical connectors like Weather Pack connectors, Deutsch Connectors, Molex connectors which are commonly found on cars, RVs, trucks, motorcycles, race cars and boats.
Deutsch Crimping Tools: IWD-16, IWD-12 & IWD-20 crimpers are designed for crimping Deutsch solid pins and sockets(Size 16, Size 12 & Size 20) to fit in Deutsch DT, DTP, DTM, HD10, Jiffy Splice connectors.
Weather Pack Crimping Tool: Delphi WeatherPack Crimper: IWC-1424B Metri-Pack and Weather Pack crimp tool aids in the assembly process of the Metri-Pack 150 & 280 and Weather Pack connector lines. The crimpers are designed to crimp the terminals and seals found in the Metri-Pack and Weather Pack series.

Open Barrel Terminal Crimper

: IWC-1424A open barrel crimp tool is designed to crimp non-insulated, open barrel terminals, also known as OEM terminals. It has five crimp stations that roll the open barrel terminal tabs over the wire and insulation, crimping them to the terminal.
Pin Removal Tools: ET-01( DT-RT1) Deutsch wedgelock removal tool and depin tools for WeatherPack terminals, Deutsch DT, DTM, DTP connectors release terminals safely without damaging the vehicle wiring harness or terminal block.