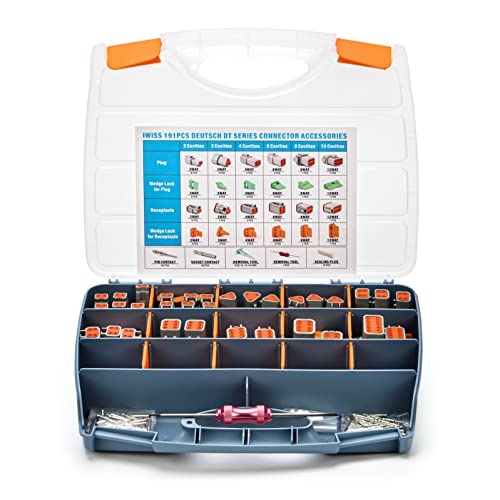 IWISS Deutsch DT Connector Kit with Size 16 Solid Contacts, Gray A-keyway Connector in 2, 3, 4, 6, 8, 12 Pin Configurations, 191Pcs
Original price
$79.99
-
Original price
$79.99
About this item
Deutsch Connector Kit: The Deutsch DT series connectors are by far the most popular connector used in many automotive, industrial and Motorsport applications.
Configurations: IWS-191KIT Deutsch connector assortment is available in 2,3,4,6,8 and 12 pin configurations. Ideal for OEM pigtails and DIY wiring harness.
Performance: DT Connectors are built to be weather resistant as well as dust proof,resulting the DT series connectors being rated to IP68. Vibration and drop tested.
Size 16 Contacts: Deutsch Size 16 Solid Contact 0460-202-16141. This contact is nickle plated and will accept 20-16 gauge wire.
Deutsch Removal Tools: Remove contacts without damaging wire, insulation, connector seals or connector bodies. Compatible with DTM, DTP, DTHD & Jiffy Splice series.