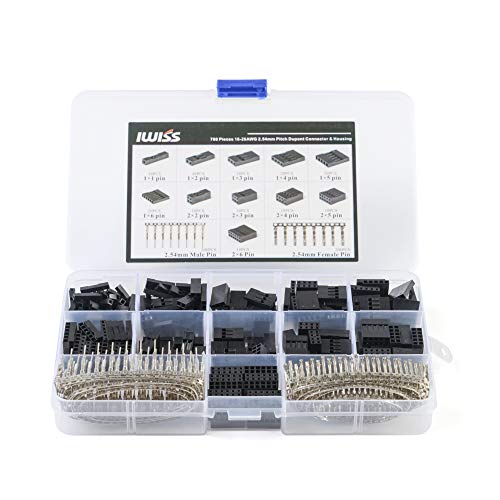 IWISS Dupont Connector Kit 2.54mm Pitch Single Row Male Headers, Dupont Crimp Pins for 3D Printer and FPV Jumper Wire, Ribbon Cable
Original price
$12.99
-
Original price
$12.99
About this item
620PCS Dupont Connector Kit: Dupont style 2.54mm connector kit consists of a selection of housings as well as male and female crimp pins to make custom jumper cables for solderless breadboards or to go between male and female headers that are on standard 2.54mm (0.1″) centers.
The housing components are injection molded Nylon66, UL 94V-0. These thermoplastics are scientifically proven to resist UV-radiation than the normal plastics, ensuring that the connectors are well-protected, reducing the chances of early degradation and increased cycles/minute of the connector subjected to harsh environments.
Dupont 2.54mm pitch wire-to-wire connector in a complete package including the male housing, female/receptacle housing, female terminal and male terminal, all manufactured with precision-fitting and durability ensuring accurate mating.
The electrical interfaces are fully sealed using a shrouded-header for use applications with high levels of moisture. The shroud helps meet the low smoke, toxicity and flammability requirements of almost all industries.
Applications: Dupont connector serves as electronic connectors for making custom wires for FPV, drone, breadboard, 3D printer, robots, etc.
Details:
IWISS 620pcs pin housing connector and DuPont crimp pins Adaptor kit with Micro Wire Cutter--Meet all your expectations of DIY project!