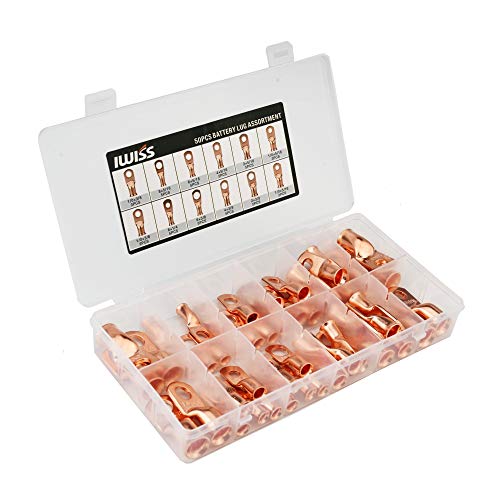 IWISS Heavy Duty Wire Lugs, Battery Cable Closed Ends, Bare Copper Eyelets, Tubular Ring Terminal Connectors Assortment Kit-50 pcs 10 Types AWG2,4,6,8,1/0
Sold out
Original price
$29.99
-
Original price
$29.99
About this item
Easy Identification: Each bare copper lug is engraved with wire gauge and stud size, easy for you to selection.
The closed design of these copper terminal connectors seal out the moisture, and the temperature durability prevent deforming, ensure the safety of use.
Package includes total 50 pcs with various sizes for easy selection: AWG2*3/8-5pcs, AWG 2*5/16-5pcs, AWG4*5/16-5pcs, AWG4*3/8-5pcs, AWG6*3/8-5pcs, AWG6*5/16-5pcs, AWG6*1/4-5pcs, AWG8*5/16-5pcs, AWG1/0*5/16-5pcs, AWG1/0*3/8-5pcs
IWISS bare copper battery cable ends are made from 99.9% pure copper tube with strong durability, which have nice electrical conductivity, heat and corrosion resistance. Heavy duty construction for enhanced high temperature durability.
Wide Application: IWISS heavy duty wire lugs can be widely used in many situation like solar panels, motorcycle, marine, vehicle, boat, trolling motors wiring and other household appliances, such as automobiles, electrical industry, car maintenance,etc.
Details: Heavy duty Electrical Lugs are great for inverters, battery and automotive applications. These lugs can be connected to a cable such as a battery cable by simply stripping insulation from the end of your cable, placing the lug over the exposed cable and crimping the barrel tightly and securely to the end of the cable. They can also be soldered on if you prefer. These lugs are made of tin plated copper which offers excellent conductivity for any application you my have. Copper lugs feature a burr-free appearance for an aesthetically pleasing finish and seamless performance.
Package Included: AWG 1/0*3/8, 5pcs AWG 1/0*5/16, 5pcs AWG 2*3/8, 5pcs AWG 2*5/16, 5pcs AWG 4*3/8, 5pcs AWG 4*5/16, 5pcs AWG 6*3/8, 5pcs AWG 6*5/16, 5pcs AWG 6*1/4, 5pcs AWG 8*5/16, 5pcs Total 50pcs