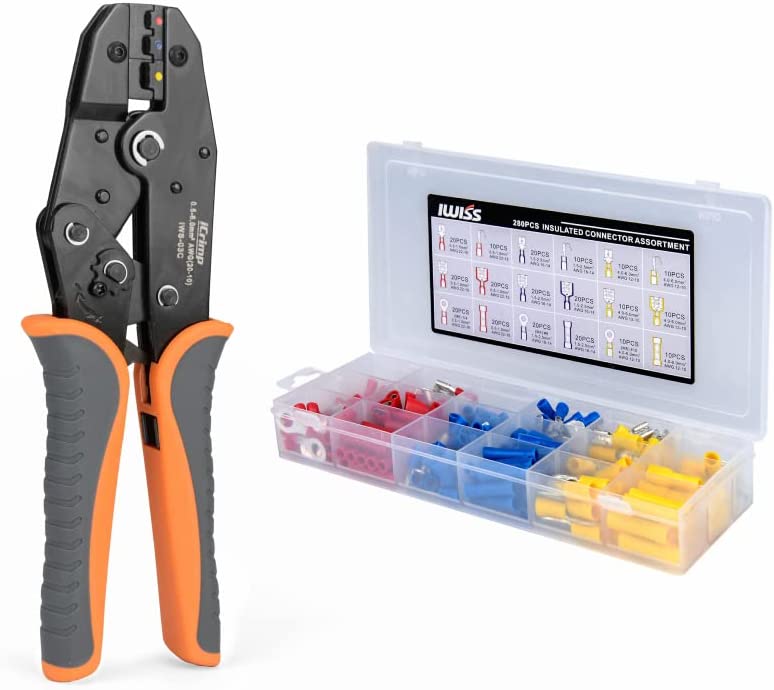 iCrimp Insulated Terminal Crimping Tools Ratchet Wire Crimper with 285pcs Insulated Butt, Spades, Rings Connectors from AWG22-10
Original price
$25.99
-
Original price
$25.99
About this item
High Precision Ratchet: Automatically adjust itself to the appropriate diameter for crimping terminals. Accuracy and reliability crimps every time.
Ergonomic Handle Design: Labor-saving ratchet mechanism. The non-slip nylon handle is designed for providing you with easy operation and sturdy crimps.
Portable Functional Kit: Connectors Crimping Tool Kit could help you quickly complete the wiring, suitable for all kinds of equipment switches, batteries, cars and household, electronic components with pins etc.
285pcs Insulated Connectors: Each Kit comes with 285pcs -18 types of insulated wire terminals connectors- spades/rings/butt connectors from AWG 22-10/0.5-6mm². Easy Identification with red, blue and yellow color and size marks.
Satisfaction Guarantee: IWISS products are backed by an unmatched reliability and consistency, coming with quality assurance you can trust. If you meet any problems, please do not hesitate to contact us.
Details:
❤ ICrimp Insulated Connectors Crimping Plier is an important accessory in our electrical work, a handy tool for your crimping projects! This crimping tool can automatically adjust to the appropriate diameter for crimping. Ratchet mechanism provides automatically releases as soon as the required force.

FEATURES: ♥ Ergonomic Handle Design provides conform grips
♥ Connectors are easy identified with red, blue and yellow color and size marks.
♥ High quality crimper ensures repeatable crimping action.
♥ Ideal for crimping insulated spades, butts and rings connectors from AWG 22-16.
♥ Adjustable Ratchet and Lever Action Construction reduces fatigue degree.

TOTAL 285 INSULATED CONNECTORS CONTAINS:
● 20pcs (M6)1/4"Rings ---AWG22-16---Red
● 20pcs Female Spades --- AWG22-16 --- Red
● 20 pcs Male Spades --- AWG22-16 --- Red
●15 pcs Butt Splices--- AWG22-16 --- Red
●15 pcs Female Spades--- AWG22-16 --- Red
●15 pcs Piggyback--- AWG22-16 --- Red
● 20pcs(M4)#8 Rings --- AWG16-14 --- Blue
● 20pcs Female Spades --- AWG16-14 --- Blue
● 20pcs Male Spades --- AWG16-14--- Blue
●15pcs Butt Splices--- AWG16-14 --- Blue
●15pcs Female Spades--- AWG16-14 --- Blue
●15pcs Piggyback--- AWG16-14--- Blue
●15pcs(M6)1/4"Rings --- AWG12-10 --- Yellow
● 15pcs Female Spades --- AWG12-10 --- Yellow
●15pcs Male Spades --- AWG12-10--- Yellow
●10pcs Butt Splices--- AWG12-10--- Yellow
●10pcs Female Spades--- AWG12-10--- Yellow
●10 pcs Piggyback--- AWG12-10--- Yellow
NOTE:
Please pay attention to safety when using.

PACKAGE INCLUDED:
1 ×IWISS Insulate Ratchet Crimperl
285 × Insulated Connectors