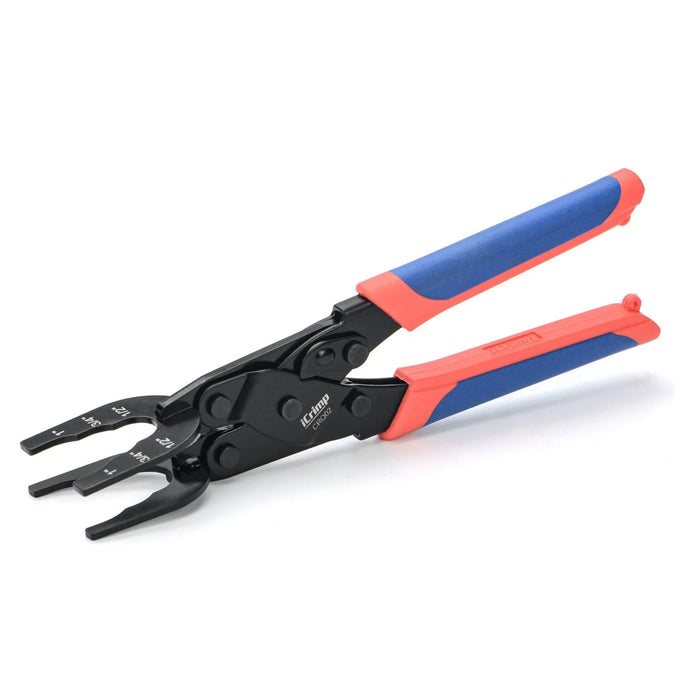 iCrimp Push-Fit Disconnect Tong Tool for Easily Removing Push-to-Connect Fittings(1/2-in, 3/4-in, 1-in), Multi-Sized Removal Tool For Push Fit Fittings
Original price
$20.99
-
Original price
$20.99
About this item
Fast Disconnection: To use the Disconnect Tong, slide the tongs over the fitting and the pipe. Squeeze the tongs to press the fitting's release collar and pull the pipe from the fitting. The universal brass push-to-connect fitting is ready to re-use

No Loose Components: CRQ-02 disconnect tong is designed to combine 1/2-in, 3/4-in and 1-in tongs in one tool. Allows for easy and effective removal of brass push-to-connect fitting from pipe

Compact Design: Approved to be used underground and behind walls without access panels. Designed for hydronic heating as well as potable water distribution. Perfect tool for anyone frequently using Push-Fit fittings. Easy 1-handed operation

Versatility Takes push-to-connect fittings off copper, PEX, and CPVC pipe in any combination. No soldering, clamps, unions, or glue required.Reusable on multiple same size quick connect fittings

Durability Made of 40CR steel and suface treated with electrophoresis, the tool is solid & anti-rust for years of use
CRQ02 Push-to-Connect Fitting Metal Disconnect Tong
The CRQ02 Push-Fit fitting removal tool is designed for the brass push connection to be disconnected from the pipe quickly and easily. Applicable for hydronic heating as well as potable water distribution. It is approved for underground and behind-the-wall applications without access panels. It is fast and easy using disconnect tool. The Push-to-Connect fittings connect copper, PEX and CPVC in any combination and the CRQ02 disconnect tong makes it easy to take the connection apart when needed. This 3-in-1 removal tool works for multiple push-fit fittings of 1/2-in, 3/4-in and 1-in.
Highlights of CRQ02
Compact design with wide grip handles.

Easy one-handed operation in tight spaces.

Quick and easy disassembly.

Ideal for working in tight spaces.

Made of carbon steel for durability.

Demount fittings from PEX, copper, CPVC, PE-RT & HDPE with ease.
Disconnecting A Joint
By applying pressure to the release collar with the CRQ02 removal tool, the grab ring teeth are splayed. This action releases the pipe, allowing it to be removed from the fitting.
Placet the CRQ02 removal tool around the pipe with the non-marking face against the release collar. The end with the size displayed on the removal tool should be positioned around the pipe and the other end around the neck of the fitting.

Push the removal tool against the release collar and pull the pipe with a twisting action to release the pipe.

Check the fitting and pipe end for damage. The fitting and pipe shoud be free of damage, foreign objects and marks on the outside diameter.