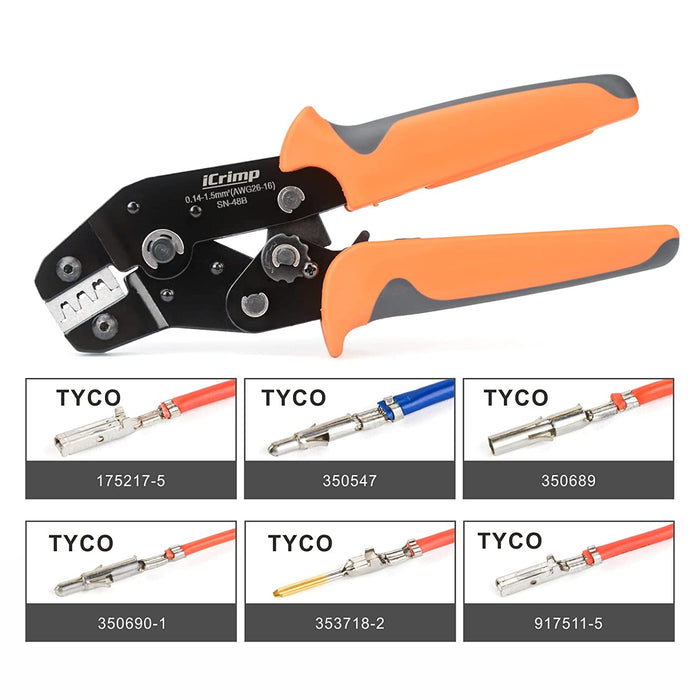 iCrimp SN-48B Pin Crimping Tools 3.96/4.8/5.08/6.3 mm 26-16AWG Crimper 0.14-1.5mm² for Dupont & JST-SM Molex Connectors and Terminals
Original price
$22.29
-
Original price
$22.29
About this item
Purpose: SN-48B wire crimping tool is for crimping solderless open barrel terminals from JST, Molex, Dupont, and Amphenol.
Capacity: Used to crimp 3.96/4.8/5.08/6.3mm pitch terminals onto 26-16AWG wires.
EDM Die Set: Precision die set processed by EDM cutting ensures high-precision work. Crimp profile and crimping pressure must be precisely matched to the connectors and cable used to create a professional connection that is permanently mechanically and electrically safe and secure.
Compact Design: Light, compact design with toggle lever reinforcement of manual force and precision crimp profile. Favourable handle position, low weight, compact design and ergonomically shaped handles.
Applications: Used to connect electrical wires on 3D printers, FPV drones, racer cars, motherboard refit or repair wiring projects.
Release Date: 29-03-2017
Details:
Crimping capacity: 0. 5-1. 5 mm2
AWG: 26-16
For 2. 8/3. 96/4. 8/5. 08/6. 3 mm grounding terminal connector.
Length : 190 mm
Weight : 0. 35kg
This crimping tool can be used to crimp both male and female crimp pins onto 16-26 AWG wires to make custom cables. The tool offers ratcheting action for increased consistency and ease of use.
Using the Crimping Tool.
(1). Grasping the tool in your left hand with the lettering visible and facing toward you, but upside down.
(2). Position the connector in one of the three slots, and the "wings" are facing down.
(3). Close the tool slightly until the ratchet just engages and grasps the connector.
(4). Squeeze the ratchet and it will open after this step. Connector should have successfully crimped on to the wire.